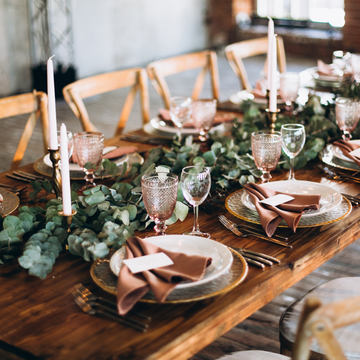 Gourmet Catering
& Events
Exceptional Experiences. Superior Taste and Quality. Unparalleled Service.
INQUIRE ABOUT CATERING
WEDDINGS & SPECIAL EVENTS
Say Yes to the Dress(ing)
Looking for the perfect wedding package to suit your special day? No matter the size of your celebration, we've got you covered whether you're planning an intimate gathering or a grand affair for over 500 guests. Trust us to bring your dream wedding to life.
WHY KITCHEN FARMACY CATERING?
We're Not Your Average Caterer.
Exceptional Experiences.
Kitchen Farmacy is renowned for its leadership in creating sophisticated, exceptional events, including stunning weddings, intimate parties, and memorable corporate functions in Peterborough and the surrounding area.
Request a Quote
Taste & Quality First.
At our state-of-the-art catering kitchen, we pride ourselves on using only the highest quality, homemade ingredients. We source our ingredients locally and seasonally, infusing them with global flavors to create a truly memorable and delicious culinary experience. From start to finish, we uphold the highest standards of integrity in all that we do
Request Our Catering Menu
Unparalleled Service.
Our team is dedicated to providing unparalleled service, infusing unique creativity into every aspect of your event, and delivering exceptional cuisine and ambiance. We are committed to flawlessly executing every detail to create a truly buzz-worthy experience.
Request a Quote
CHEEKY EXPERIENCES
We Bring More Than Food, We Bring the Party.
HOW MANY APPETIZERS WILL EACH GUEST RECEIVE?
Our appetizers and canapes are priced per person and we guarantee at least one-two of each appetizer per guest, however, we always bring extra to ensure there is more than enough.
ARE RENTAL COSTS INCLUDED IN THE CATERING QUOTE?
No, they aren't. For an additional charge, the Clients are encouraged to rent any plates, cutlery or other rental items through Kitchen Farmacy's designated provider. In the event the Clients rent such items on their own, it is acknowledged and agreed that Kitchen Farmacy shall have the right to approve the items they are renting at least 30 days prior to the Wedding to ensure that they are sufficient. In the event the Clients fail to do so or fail to rent the number of items requested by Kitchen Farmacy, the Clients shall be liable for all resulting additional costs incurred by Kitchen Farmacy.
WHAT IS THE MINIMUM ORDER?
We have a minimum order of $2,000 for any in person catered event. We have different styles of catering that might be better suited for you if you have a smaller budget. Email info@kitchenfarmacy.ca to inquire.
SERVICE FEE & TIPS
All food and beverage prices are subject to a 18% service charge and are subject to HST. These tips go to the staff as well as the administration and operational services required for your event.
CAN WE BRING IN OUTSIDE FOOD?
In order to ensure quality control and for liability protection, all food at your Wedding shall be provided by our in-house catering team. Self-catering is not permitted. The only exception to this is that a wedding cake from a certified commercial kitchen can be brought in with the permission of Kitchen Farmacy.
ARE CHEFS/SERVING STAFF INCLUDED IN THE MENU PRICE?
No, this will be in addition and will be subject to your overall guest count. We ensure that these costs are outlined for you in your proposal.
WILL THE SERVERS HELP WITH SETUP/CLEAN UP?
Our servers will not be present to help with your set up, but they will make sure all plates are cleared, rinsed, and packaged away to be returned to the rental company.
WHAT FORMS OF PAYMENT DO YOU ACCEPT?
We accept payment via cheque or email transfer.
DO YOU OFFER A BRUNCH MENU?
We do! Brunch weddings have been such a hit for us. Think beautiful fresh fruit laid out, local pastries and croissants, a coffee/tea bar, followed by a full brunch with selections such as: eggs benedict, healthy hash,
ARE THE MENUS CUSTOMIZABLE?
Yes! We offer many options in our menus, however, we understand that everyone has different needs and we are happy to discuss them, help provide advice and adjust through the menu process.
CAN I BOOK A TASTING?
We offer complimentary tastings to our wedding clients that will be curated by Chef Josh based on the menu you have chosen. Your tasting meal will be delivered to your door (depending on your location) on either a Tuesday or a Friday.
DO YOU PROVIDE VENDOR MEALS? HOW MUCH DO THEY COST?
Kitchen Farmacy shall provide a 50% discount for food provided to your photographer and wedding planner, plus any additional vendors as agreed to by Kitchen Farmacy.
DO YOU HAVE A KID'S MENU?
We do! Children up to 12yrs will be allowed to choose from our children's menu. Individuals who are 13yrs and older are considered adults for meals.
DO YOU CHARGE A CAKE CUTTING FEE?
We offer complimentary cake cutting for your wedding.
IF MY EVENT IS OUT OF TOWN, DO YOU CHARGE A TRAVEL FEE?
Depending on the location of your event there may be an additional fee to cover the costs of transportation.
DO YOU OFFER BUFFET STYLE OR JUST PLATED?
We can accommodate your requests and whichever style you prefer for your wedding day (given there aren't any restrictions due to COVID19)
WHEN DO I NEED TO SIGN THE CONTRACT?
We ask that you sign the contract once you have had a chance to review and are in agreement with the details outlined. We require the contract to be signed and the initial deposit made to secure your date with us.
IS THERE ANYTHING THAT KITCHEN FARMACY REQUIRE OF US?
We recommend an app called "Appy Couple" to help you with the collection of information from your guests. It's something you can enter in the menu selections and send this out to your guest list and they can make their selections electronically, enter in any allergies or dietary restrictions, etc. and the app puts everything together in a nice spreadsheet for you at the end that you can share with us.
We'd absolutely love a place card provided at each table setting with the guests name and their meal selection (B for Beef, C for Chicken, V for veg) - this helps eliminate any confusion when the meals are being served or people moving spots and potentially getting the wrong plate.